The Himachal cricket academy (HCA) was formed with the objective of augmentation of cricket in the state so as to capture and nurture young unexplored talent. There are three types of academies under the aegis of HCA:-
Residential Academy at Dharamshala, Kangra & Una.

Day Academies at all the twelve District Headquarters and

Transit Academy at Dharmshala.

Junior Boys Residential Academy at MCM Chandigarh
The brief functioning of the said academies are enunciated below:
The residential academy at Dharamshala stadium is the state level academy run by Himachal Pradesh Cricket Association in which 15 boys of different age groups have been selected on the basis of trials and performances in various tournaments. The academy is well equipped with all the modern facilities like 8-10 practice wickets, an international standard ground for matches, indoor practice area (likely to be completed by February 2010), latest gymnasium with wet area, reading room, indoor games like Table Tennis, Chess, Carrom etc., separate dinning room, rehabilitation facilities etc. In addition to this we are constructing an indoor cricket stadium with all modern facilities like rehabilitation centre, conference rooms, coaches rooms etc. Adjoining to the academy premises we are also coming up with a club house which will be extending all modern facilities like indoor swimming pool, lawn tennis, basket ball, volley ball, squash courts etc. It is headed by Mr. Anuj Pal Dass (Level – C Coach).


Residential Academy at Kangra Women U-17 is the state level academy run by Himachal Pradesh Cricket Association in which 22 Girls of different age groups have been selected on the basis of trials and performances in various tournaments. It is headed by Mr. Pawan Sen (Level – B Coach).


Residential Academy at Una U-16 (Boys) is the state level academy run by Himachal Pradesh Cricket Association in which 31 boys of different age groups have been selected on the basis of trials and performances in various tournaments. It is headed by Mr. Yoginder Puri (Level – C Coach).


Day Academies: All the District Cricket Associations are running two day academies in each district i.e. one each at district headquarters and block level. Infrastructure for these academies has been created by Himachal Pradesh Cricket Association through HCA.


Transit Academy: A pool of 45 talented boys of all age groups has been created and they have been divided into three groups of 15 boys each and they are called for training on rotational basis under a specific training programmee designed by Himachal Cricket Academy.
ORGANISATION STRUCTURE
The Himachal Cricket Academy is headed by an Administrative Director who in his operations is assisted by Coaching, Training and Administrative wings The brief functioning of the various wings of HCA is detailed below.
HCA Director:
HCA director is the main link between the academies and the Himachal Cricket Association. He heads all the meetings of the HCA and coveys the decisions taken to the HPCA for speedy implementation. All the guidelines issued by the HPCA relating to cricket academies are received and implemented through him. In short he is the link between HPCA and HCA and also monitors the day to day functioning of the Academies.

Coaching Wing:
Coaching Wing is headed by the Coaching Director who in consultation with other two level three coaches frames the coaching programmes for Himachal Cricket Academy. There are three level III, five level II and eight level I (including three women) coaches available for implementation of various training programs of HCA. In order to keep tight control on the functioning of the academies a system of reporting has been evolved for all the academies, under which all the academies are required to furnish a monthly report in designated format to the director academy who causes them to be laid in the meeting of the academy where they are discussed in detail. In light of the scarcity of coaches in the state regular coaching seminars for coaches are organized by HCA and former cricketers are encouraged to be a part of the development programmee.

Training Wing:
Under this wing HCA has two qualified trainers who are also complemented by a qualified physiotherapist. All the modern equipment required for training and rehabilitation are being provided to the training staff.

Administrative Wing:
The Administrative wing is headed by an Administrative Manager who is responsible for smooth conduct of day to day activities of the HCA. He is supported by well trained office staff. To keep ward and watch on the players he is assisted by a warden.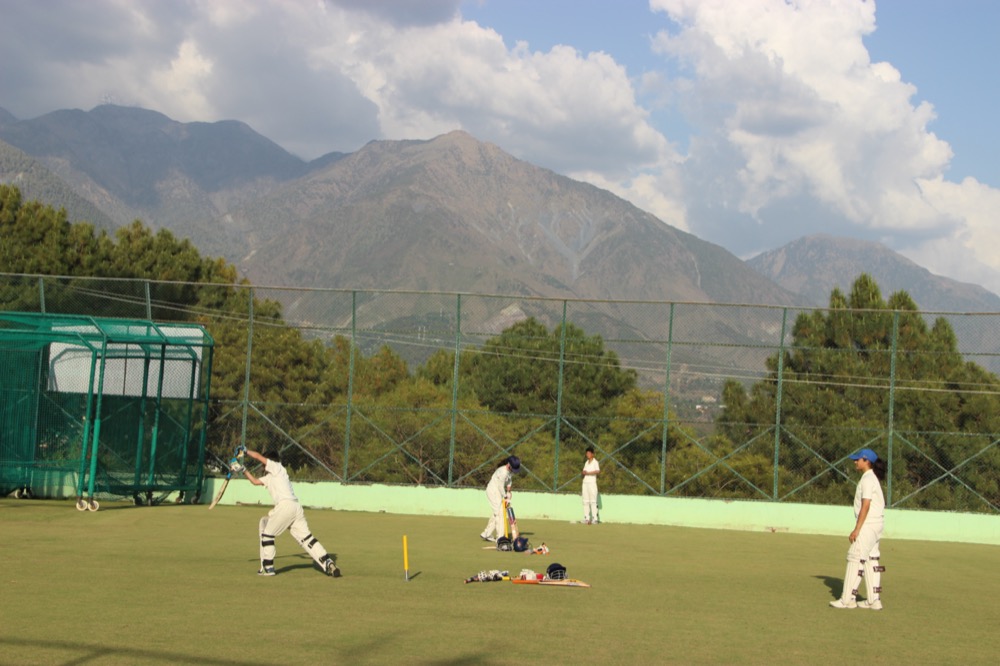 INFRASTRUCTURE


The Himachal Pradesh Cricket Association through the Himachal Cricket Academy is providing excellent facilities to the budding cricketers. The residential Academy at Dharamshala housed in the HPCA cricket Stadium is a treat to watch, it is surrounded by snow covered Dhauladhar Mountains. As regards extending of facilities to players is concerned you will be glad to know that our association is spending about 98 percent of its budget on cricketing activities and creation of infrastructure. The facilities extended to players have already been explained above. However it is pertinent to mention here that Himachal Pradesh Cricket Association is providing everything i.e. kits, playing equipment, boarding and lodging to players free of cost, not even a single penny is charged from any player.

Programmee /Player development
As already stated the Programmee named Himachal Cricket Academy was started in the year 2005, prior to this also one state level residential academy functioned at Una but a comprehensive directed approach has been started with the invent of HCA. The programmee aims to augment cricket in the state of Himachal by capturing and nurturing young unexplored talent. The programmee design has already been discussed ibid.

Objectives of HCA in player's development
To bring to fore latent potentialities and nurture them into future cricketers.

Implement a systematic process that can identify the development of players.

Develop coaching ability of coaches throughout the state by organizing seminars and other educational programmees.
Under the said scheme the trainees would be subject to the following programmes:
Physiotherapy screenings

Fitness testing/ Training

Strength and conditioning Testing /Training.

Running techniques.

Technique Analysis (Video Recording)
Rehabilitation Center
A rehabilitation center is run by the HCA at Dharamshala. A Physiotherapist and a trainer look at it under the guidance of the coaches. Our physiotherapy unit is equipped with the following machines.
Ultrasound

IFT, TENS, Muscle Stimulator

Single TENS

SWD (Short Wave Diathermy)
Therapeutic Gymnasium
Our gymnasium is equipped with the following therapeutic equipments;
Treadmill

Jogger

Free weight Dumbells

Hydrolic pulley

Stepper

Quardiceps and Hamstring chair

Medicine balls (Gel based and rubber based)

Vestibular balls

Therabands, Balance pads e.t.c.
Coaches and Support Staff
As detailed above there are three level III, five level II and eight level I (including three women) coaches at the disposal of HCA. In addition to this around 20 former cricketers have been educated by organizing seminars locally and they assist the level III and II coaches as assistants. As far as training staff is concerned there are only two qualified trainers and one physiotherapist at the disposal of HCA. However sincere efforts are being made to engage more trainers so as to provide better training facilities to players.

Administrative Support Facilities
The director is assisted by an Administrative Manager in discharge of all the administrative functions who is further assisted by a warden and office staff. As far as day and transit academies are concerned the administrative functions are discharged with the help of District units.

Achievements
The said programmee has helped us in improving the standard of cricket in the state immensely and is clearly evident from the fact that prior to the year 2000 Himachal had won only two Ranji Trophy games and since the invent of Academy culture in the state we have qualified twice for the Elite Group Ranji Trophy and in the year 2006 we were the winners of Plate Group Ranji Trophy. In addition to this all our age group teams are playing in the Elite Group. So far as individual performances are concerned some of the highlights are:
Rishi Dhawan: was selected for IPL from Kings XI Punjab, has also been selected as probable for India under 19, was declared CEAT Cricketer of the year in the year 2007 and was also declared Man of the Tournament in Hemu Adhikari Trophy.


Ajay Rana: was highest wicket taker in the under 17 National Championships in the year 2006-07 resultantly he was declared Junior Cricketer of the year by BCCI for the year 2006-07


Sumit Verma: was selected to represent Hemu Adhikari trophy for the year 2008 & 2009 also.